Closer Acoustics Flō phono preamplifier
Regular price

Sale price

€7.915,00
Out of stock
Price excluding taxes.
Made to order

Closer Acoustics electronic components are usually made to order. Waiting time is 3 to 4 months. We confirm every time the delivery time after the order is received.
Ask for availability or bargains

Sometimes we have some stock or demo piece. You are most welcome to ask for the current opportunities.
Shipping information

Shipping from Poland. Fully insured. Service delivered by FedEx.
Taxes

For EU member countries customers, country specific VAT tax rate will apply at check out.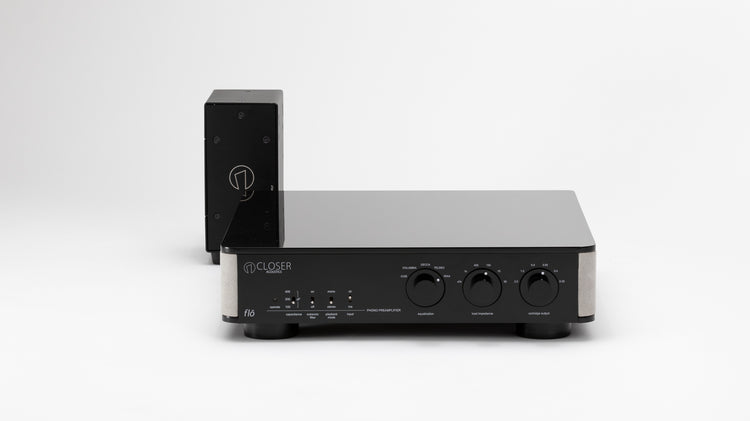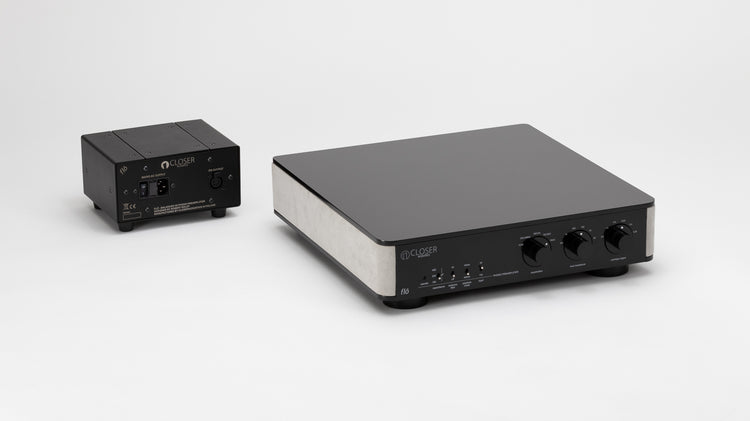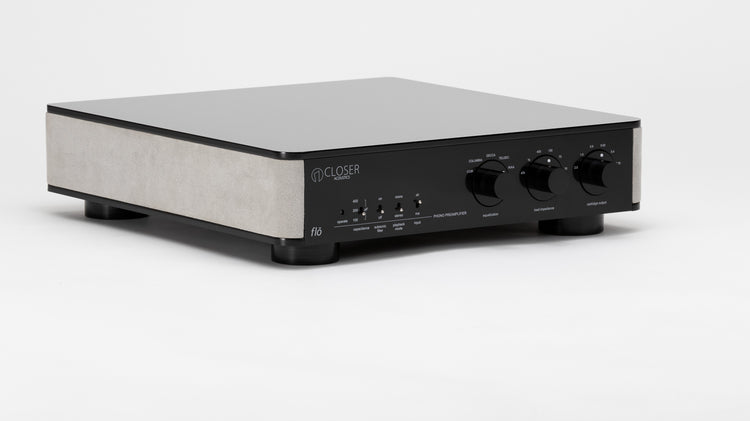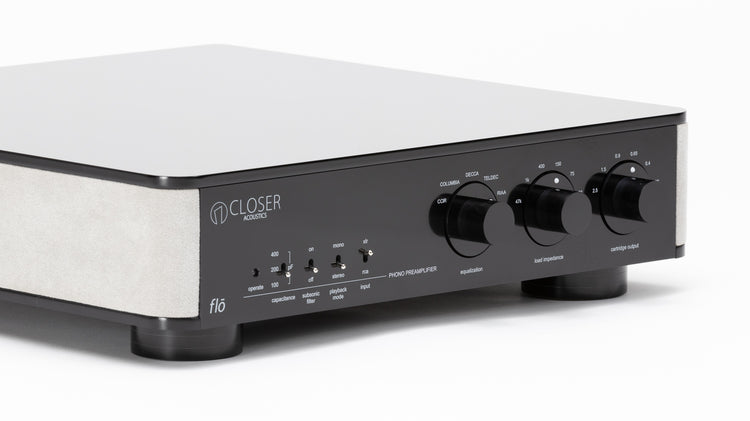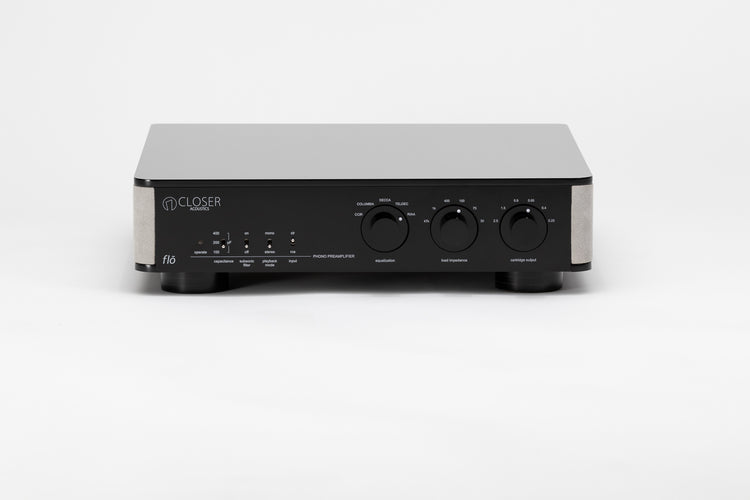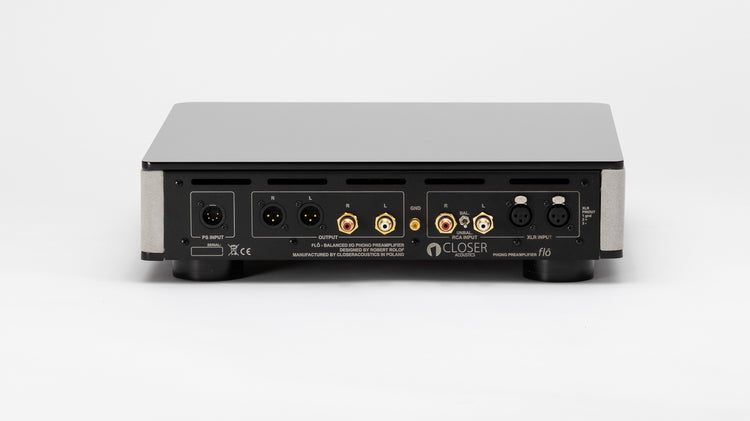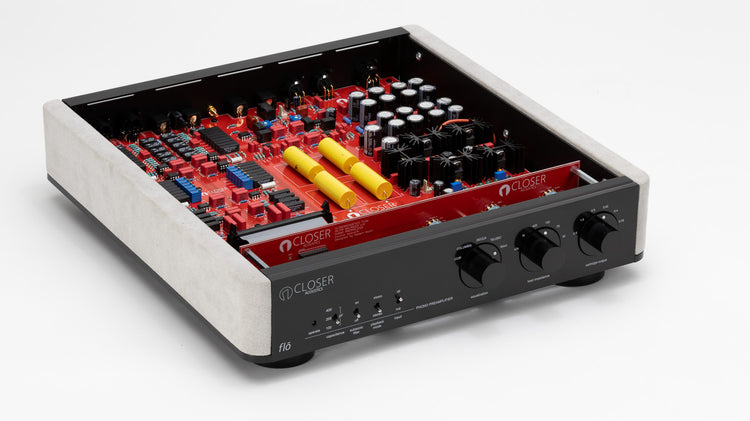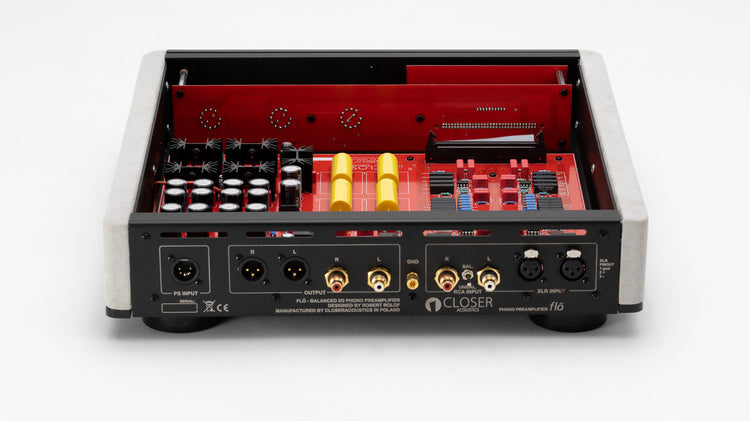 Product Details
Phono preamplifier for all cartridges ?
Flō phonostage = versatility
The Flō is equipped with two sets of XLR and RCA sockets. The preamplifier uses a proprietary solution that allows to connect a symmetrical signal from the cartridge even using RCA cables.
Two turntables or two tonearms can be connected at the same time.
Extensive adjustment options
For optimal matching of the phono cartridge connected to the preamplifier, the impedance, capacitance and gain of the input stage are adjustable.
The switches are located on the front plate, so you can select the optimal operating parameters easily according to the requirements of the cartridge.


Up to five frequency curve characteristics
The preamplifier has five frequency response correction circuits. Equalization is carried out passively in two independent stages, separately for low and high frequencies. In the case of the RIAA characteristic, an additional filter was used to correct the operation of the circuit in the 50kHz range. The signal path uses current coupling with the omission of interstage capacitors.

Separate power supply

Symmetrical power supply equipped with ultra-fast rectifying diodes, polyester capacitors suppressing high-frequency impulse interference, main filtration based on Panasonic low-impedance electrolytes with an extended lifetime of up to 10,000 h and a total capacity of over 50,000 microfarads. Two-stage power supply stabilization with a circuit reducing voltage ripple by an additional 15dB. At the output of the power supply, an additional filter made of polypropylene capacitors improves its impedance characteristics and gives it a more analog texture.
Technical specification
Inputs:
2 pairs; balanced (XLR); unbalanced (RCA)
Outputs:
2 pairs;

balanced (XLR); unbalanced (RCA)

Input mode switch:
balanced / unbalanced
Input switch:
XLR / RCA
Mode switch:
mono / stereo
Frequency response (RIAA)
15-50000 Hz (+/- 0.4dB)
Passive correction: 
RIAA,  CCIR, COLUMBIA, DECCA, TELDEC
Channel separation:
 >64dB
THD:
0.06%
Input load:
47K - 1K - 400R - 150R - 75R - 30R
Cartridge output selection:
2.5 mV - 1.5mV - 0.9mV - 0.65mV - 0.4mV - 0.25mV
Input capacitance:
100pF - 200pF - 400pF
Subsonic filter:
15Hz (-18dB)
Mains power:

230 V 

(or 110V on request)

Dimensions:
40 x 45,5 cm (L x D); H: 11 cm
Weight:
8,8kg ; Power Supply 3,6 kg
Hifi Knights Marek Dyba about Flō:
"...The Closer Acoustics Flō is not only a versatile, feature-rich, aesthetically pleasing and well-made phono preamplifier, but also, and perhaps most importantly, a remarkable one in terms of sound quality it offers. Although it's a solid-state design through and through, so there are no tubes on board, in its performance you can find not only all the most important features or advantages of transistor-based devices, but also those that are attributed (usually rightly so) to vacuum tubes."